Team Settings
Manage your team-wide settings for Honeycomb.
Access Team Settings
In the left navigation menu, select Account and then select Team settings.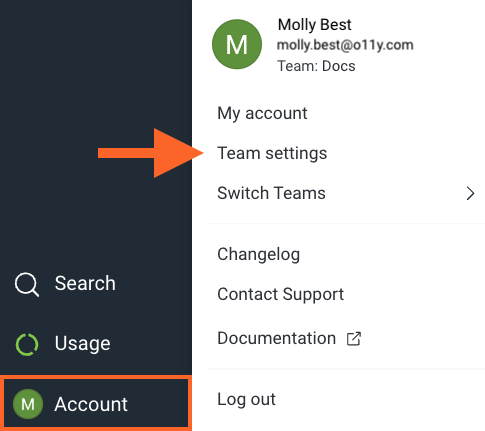 Team settings appears in the next screen.
Team Details
Team Details display focuses on team membership and its access management.
The Name of the team appears by default.
Under Environments and API Keys, use Manage to view a list of Environments associated with this team. Under Default environment, set the Environment that users should land upon if they are new to the team or if a user's most recently used environment is not known due to inactivity.
Single Sign-On (SSO) indicates whether Google Single Sign-On (SSO) is enabled or available for this team or not. This feature is available as part of the Honeycomb Pro and Enterprise plans. If SSO is enabled, then a Turn off option appears. Learn more about SSO configuration.
Query Assistant controls whether the Query Assistant appears below Query Builder. If this setting is enabled, then a Turn off option appears. This setting does not appear for teams requiring HIPAA compliance. Refer to Query Assistant documentation for more information.
Email notifications controls which Team Owners will receive usage notifications, and Owners can select Change to modify the list of notification recipients. Honeycomb sends usage notifications for the following events:
billing enforcement, such as burst protection, event count overages and throttling events
event ingest rate limiting
dataset created or deleted
datasets exceeding the maximum number of columns limit
environments exceeding the maximum number of datasets limit
A list of team members displays the profile icon, email, and role of each team member. Each team member's role is either an Owner or a Member. Learn more about Team Permissions.
Under Invitations, users can find an invite URL, which allows for new Honeycomb users to request to join your team. An Owner's approval will be required to complete their registration.
Usage
Usage shows details and trends about your team's event volume and throughput.
Usage can also be accessed directly via the Usage icon in the left navigation.
Enhanced Reporting
Enhanced Reporting is visible if you are a Honeycomb Enterprise customer. Enhanced Reporting shows a variety of information through graphs, charts, and statistics on your Honeycomb Events Ingest, Queries, and more.
Audit
Audit is visible if you are a Honeycomb Enterprise customer. Audit allows Team Owners to reference who or what caused a change in specific resource configurations.
Integrations
Within Integrations, view and configure third-party integrations and webhooks for notification purposes.
The Honeycomb + Slack and Honeycomb + GitHub sections indicate their respective integration's implementation status.
Use the Slack integration to share Trigger and SLO notifications in your Slack workspace.
Use the GitHub integration with GitHub Deployment Protection Rules.
In Trigger Notifications, add, remove, or edit team-level integration settings for Triggers. Use the search box to search for specific trigger recipients. Read the detailed instructions to set up your team-level trigger recipients, such as Slack, PagerDuty, and Webhooks.