About Honeycomb Classic
Honeycomb users who had a team before the Honeycomb Environments and Services change have a Classic environment. Previously, datasets in Honeycomb were independent, unconnected buckets of information. This dataset-only data model is known as Honeycomb Classic.
Honeycomb now supports an expanded data model with Environments and Services as groupable, relational structures.
Future product updates will ONLY support the Environments and Services model. For example, Service Map only supports datasets within an Environment. We encourage teams to migrate in order to use these new features.
Am I Using Honeycomb Classic?
In the left navigation menu, reference the label below the Honeycomb logo. The Honeycomb Classic environment has a Classic label with a gray background.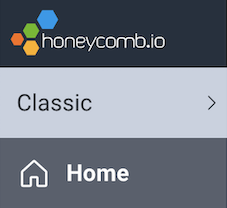 Why Migrate?
In Honeycomb Classic, to accommodate data that traversed multiple services, like traces, often meant sending all data to a single Dataset.
The Environments and Services model allows you to define and visualize data across Datasets or an Environment. The diagram reflects the new data model where a team can have multiple environments, such as Non-Prod and Prod, and group multiple datasets under each environment.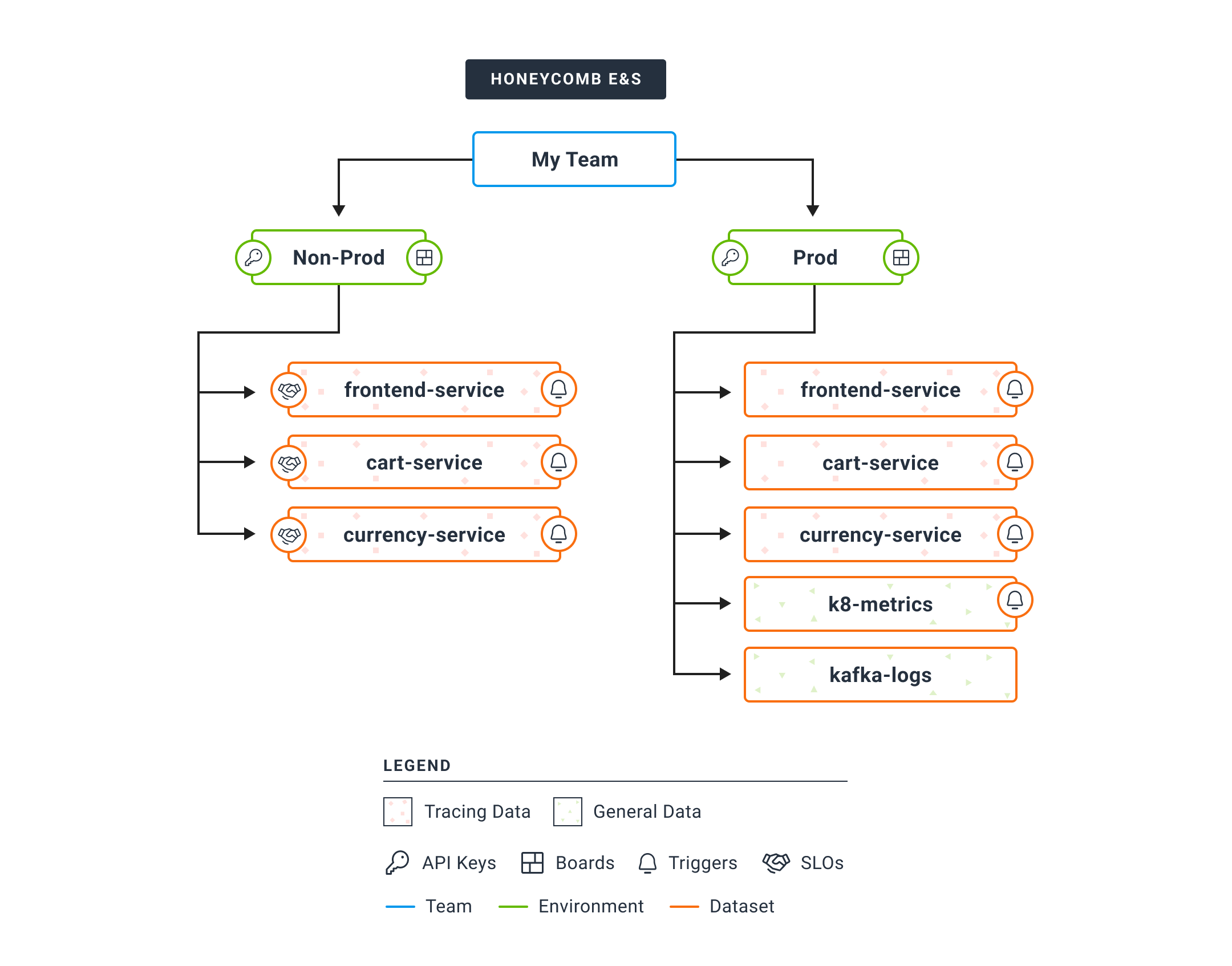 Benefits of migrating from Honeycomb Classic to Honeycomb include:
Simplified, organized dataset schemas

The groupable, relational structures of datasets in an Environment allow for focused datasets with relevant fields and values rather than an all-in-one dataset. Services in an Environment get their own Dataset, and each Dataset is less likely to exceed the 20,000 field limit.

Query across all datasets or a specific dataset

Query all the datasets in the Environment, as if it were in a single Dataset, or scope your query to a specific Dataset. The Query Builder providess auto-complete suggestions based on the scope of the query.

Scale and add new services

Services added to an Environment create new Datasets instead of impacting existing ones.

Dataset-specific Home Page

A dataset dedicated to one service presents relevant information on its Home page as the Dataset Definitions map more meaningfully to the service's fields.

Define Markers for an Environment

Annotate an important moment across all of its Datasets with a Marker. For example, use a Marker to indicate a new deployment in the Production Environment.

Better security

API keys are scoped per Environment instead of per Team, which allows securing critical instances, like your Production environment.
Next Steps
Explore migration preparation, and preview migration documentation.
Questions and Support
Join the #discuss-hny-classic channel in our Pollinators Community Slack to ask questions and learn more.
For Pro and Enterprise users, contact Support via support.honeycomb.io, or email at support@honeycomb.io.